Activation Procedure

CEM4 - Activation Procedure Rev. 1.0 2015
Dear Customer,
the 4.7.0 version CEM4 (4 March 2015) was introduced the automatic activation procedure(*) software.
(*)Internet connection required
From this release, are not the most popular phone unlock codes for activation, but only validate the license purchased from the Store centralized www.certifico.com or site.
It is activated with the software connection to the site, and with the inclusion of the credentials used to access to purchase one of the available Software Licenses:
https://www.certifico.com/en/software-cem4
1. Trial
After installing CEM4 you can:
A. Use the Software for 30 days in full mode;
B. Proceed to the activation after buying the license.
To launch of CEM4 overall screen is displayed(1):
1. General Screenshot

Trial version Demo/Trial to CEM4 is a free full version for 30 days, at the end of this period can be purchased a license from those available and continue to use the software without any loss of data entered during the trial period.
To activate a license to CEM4 machines purchased on the Store Certifico https://www.certifico.com/en/software-cem4 , proceed from the screen with "Activate Now the Product", you will see the activation screen(2):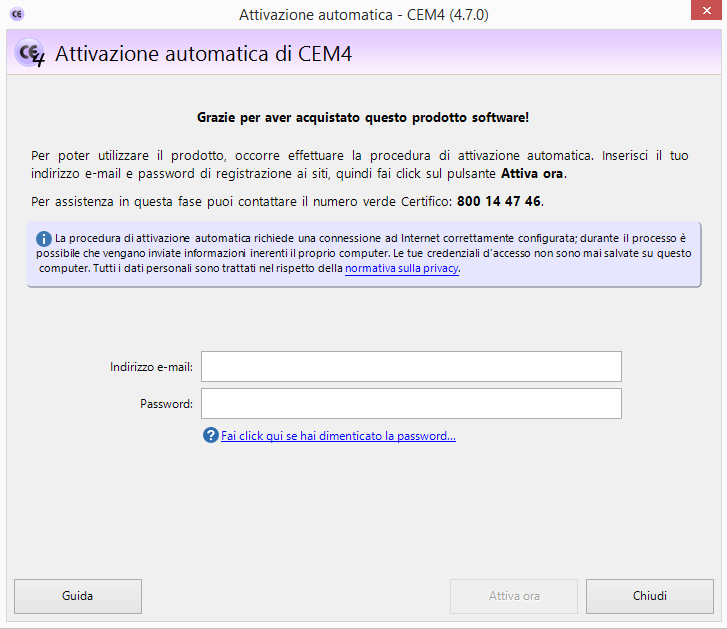 2. Activation Screen
The activation of a purchased license occurs with the insertion of credentials(3):
Email Address = Email Address to log in to the site and purchase License www.certifico.com
Password = Password login to the site and purchase License www.certifico.com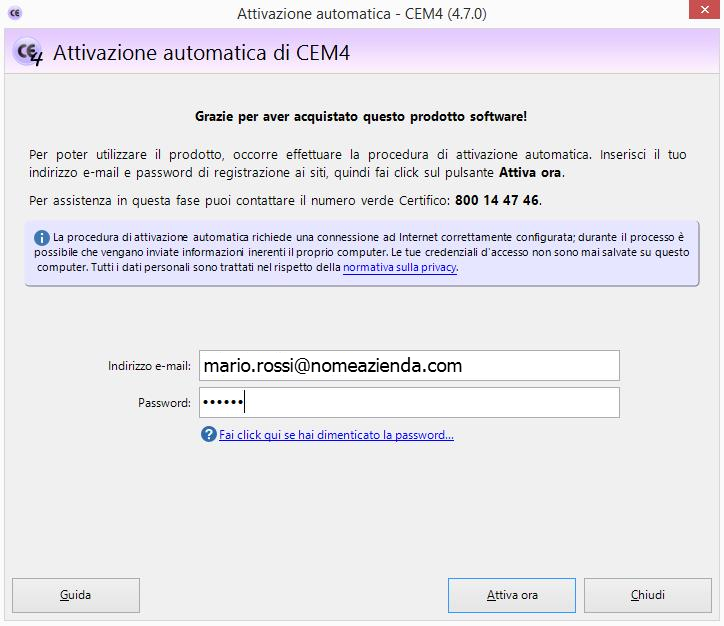 3. Entering credentials
By clicking on "Activate Now", the Software connects to the site www.certifico.com:


4. Activation Link
and it proposes one or more keys License and purchased:
5. Purchased License Keys
Select the key of the license purchased and wait for the confirmation activation message:


6. Message Activation Confirmation
The license is valid for one year from date of purchase of the software, from that date are allowed to download all updates to CEM4 released during the year.
Team Certifico
Rev. 1.0 2015